1968 Corvette | Corvettes For Sale
The 1968 Chevy Corvette was the first year of the C3, 3rd generation of Corvettes. The 68 featured a new radically styled body known as the Shark or Coke Bottle shape in reference to the bulging fenders. The C3 Corvette coupes featured removable roof panels ( T-tops). The new 1968 also featured hidden wipers which were concealed under a vacuum operated panel at egde of hood. See below for basic production numbers and specifications.
Find all 1968 Corvettes for sale - Sell your 1968 Corvette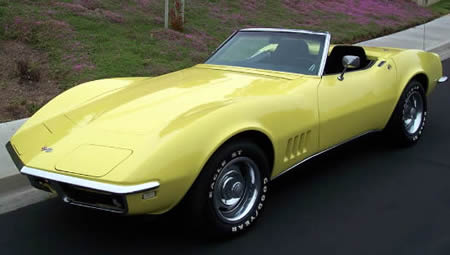 New radically restyled C3 Corvette dubbed "Shark".
Coupes roof panels (t-tops) and rear window are removable.
Side vents were gone but Astro Ventilation was new for 1968 Corvette.
Last year for ignition swith on instument panel.
1968 Corvette PRODUCTION:
28,566 (another record) with 18,630 convertibles, 9,936 coupes
BASE PRICE:
$4,663 (coupe), $4,320 (convertible)
BASE STYLES:
Sport Coupe, Convertible
BASE ENGINE:
327 cubic inches, 300 horsepower
ENGINE OPTIONS:
327/350, 327/350, 427/390, 427/400, 427/435 Big Block Tri-Power
1968 Corvette COLOR CHOICES:
Rally Red, Tuxedo Black, Polar White, Corvette Bronze, LeMans Blue, International Blue, Cordovan Maroon, Silverstone Silver, British Green, Safari Yellow
SERIAL NUMBERS:
Convertible 194678S400001 - 19468S428566
Coupe 194378S400001 - 19438S428566
1968 Corvette Specifications and 1968 Corvettes For Sale
17 Corvettes Available For Sale
---
Page: 1 2
---